Genshin Impact Has Shown One Of The Largest Launches Of Mobile Games In History, Analysts Consider
Passed month from the moment of launch Genshin Impact. Analysts companies Sensor Tower The measurements uncredited and studied how much the game at the moment earned. It turned out that release Genshin Impact became one of the most successful among all mobile projects in the history of the industry.
Estimated Sensor Tower, Genshin Impact earned over 245 million dollars all over the world. With an absolute record holder, it did not: Pokémon Go For their first 30 days received $ 283 million.
Nevertheless, the first jerk Genshin Impact Extremely impressive: in the period from September 28 to October 27, Anime-Nyashi overtook the earnings of such market giants as Honor of Kings (216 million dollars in the same time), Pubg Mobile (195 million) and Pokémon Go (122 million).
Top most profitable countries for Genshin Impact So far, it looks like this:
China – 82 million dollars (or 33.5% of all earned money games on phones).
Japan – 59 million dollars (24%).
USA – 45 million (18.3%).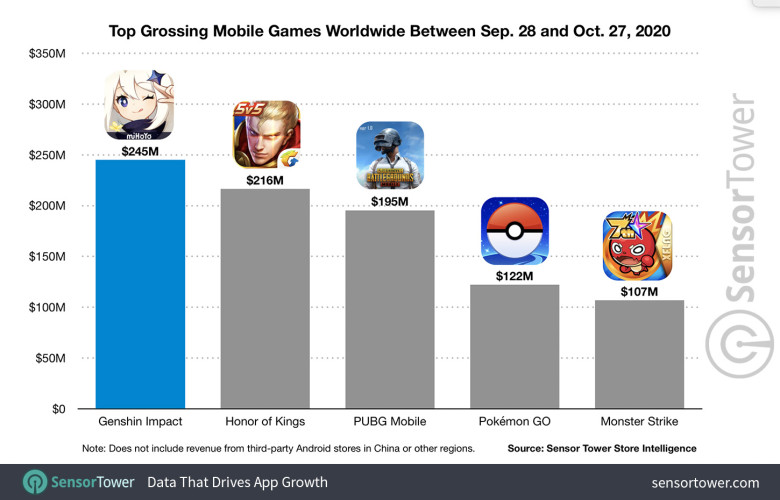 Among the mobile platforms for money leads iOS: Users of "Apples" spent 144 million dollars in the game (58.7% of the total income). Results on PC and PlayStation 4, where Genshin Impact Also available, not specified – all of the above numbers concern only mobile phones.
As a specialist in the Asian market Daniel Akhmad (Daniel Ahmad), Genshin Impact I managed to exercise the long-standing dream of the Eastern developers – to win the Western audience and not to be confusing the attractiveness in native countries. In many ways, this happened due to the high production budget, popular game mechanics and deep progress systems. MOL, Genshin Impact Feels like a full-fledged game for home platforms, but with a conditionally free distribution scheme and lutboxes.