It Seems That Darksiders Iii Will Already Be Released This
Our last significant news about Darksiders III dates back to December 2017 – Then the authors showed a couple of minutes of gameplay. Since then, the game has disappeared from the information field, but it seems that now she is preparing to return and triumphantly declare the release date.
The Xbox store appeared a mark that Darksiders III starts on November 27, 2018. Publishing house Thq Nordic This data has not yet confirmed, but the date sounds rather believable: it is hardly an official platform Microsoft just so took and invented the day of release. In addition, on November 27 – this is Tuesday, and AAA-games (and games that stretch to AAA) are very often launched on Tuesday.
In addition, the XBOX store is already taking pre-orders. Judging by the information in the store, Darksiders III There will be three main editions:
• standard;
• Deluxe Edition – Subscription for two additions and access to the game 24 hours earlier than the official launch;
• BLADES & WHIP EDITION – the same as Deluxe Edition, only with Remasteriers of the first and second Darksiders.
For pre-orders of any version give bonus armor.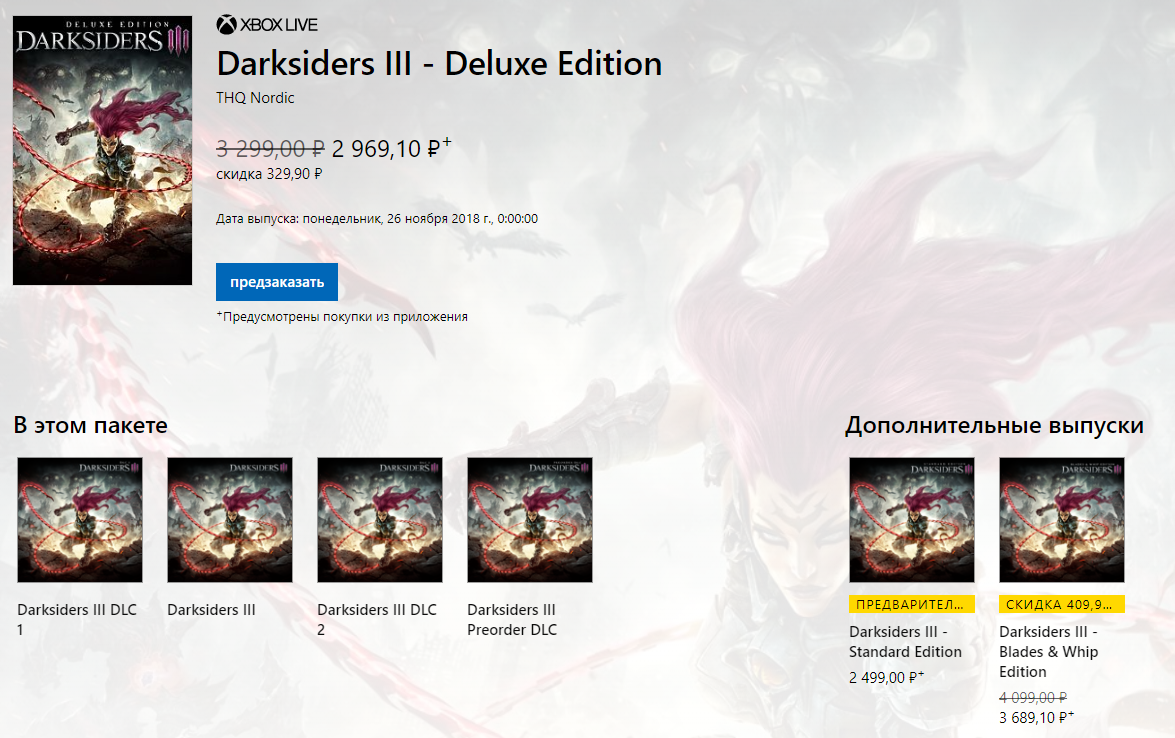 Surprise for Russian users: at the moment Darksiders III For Xbox ONE gave regional discounts. In the US, prices begin with the usual 59.99 dollars – usually in Russia it translates into 3,999 rubles or so. but Darksiders III costs 2,499 rubles for the standard edition, 2,969 rubles for Deluxe Edition and 3,689 rubles for Blades & Whip Edition.
Let's not say with confidence that Thq Nordic consciously put such prices for the Russian market, – perhaps, after some time they will grow.
Recall: Thq Nordic missed E3 2018 to enjoy football and beer, but going to declare yourself on Gamescom 2018. The German video game exhibition will be held from 21st to 25 August – Probably these days we will learn fresh details about Darksiders III.