The Main Page Steam Will Change Soon
Steam has a private group for third-party developers, where Valve shares plans for the near future. But, apparently, developers in this group so much that any information is migrated to open access.
On the eve in the closed community Valve announced that it is preparing to make changes to the main page of the store. According to the company Geiba Newella (Gabe Newell), the recommendation lists showed well. Therefore, the following update of the interface is again aimed at customized offers for each buyer.
Steam's homepage hangs: pictures of games in some places will become more, the column will appear with reference to the sections of popular new products, sales leaders, recent patches, and so on. And on the right – a column with games that are in demand from your friends.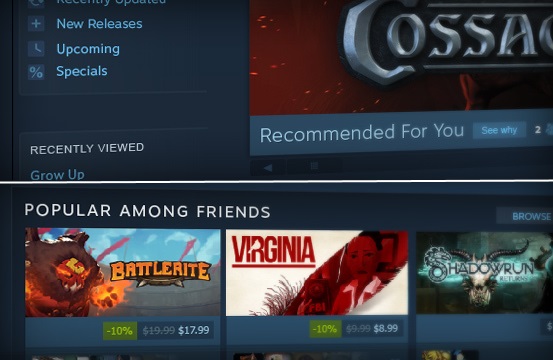 But, perhaps, the most curious thing for us is with you – global preference settings. Users will exclude certain types of goods – for example, products from "early access", program, video, VR and other. Excluded products will not be shown on the main page and in some other sections.
Besides, Valve Revises the system of curators. Curators will be able to indicate what type of revocation they left: Positive, negative or simply information. Recommendations from the curators in which you are signed will begin to appear in the "main capsule" (apparently, this is the large "carousel", which occupies the most prominent place on the home page).
With the help of such changes Valve hopes to attract exactly potential buyers, and not just everyone in a row. They say if the user leaves certain goods in the issuance on the main thing, he will acquire them with a high probability, and the valuable place on the page will not leave the game that a person is absolutely not interesting.
The main page of Steam will be transformed in the coming weeks.