What happened to Starspins Casino?
What happened to Starspins Casino?
The online casino industry is booming, with loads of different sites now available for players to join. But with so much competition, it's inevitable that some won't be able to keep up with the pace. Things will get tough and a few online casinos will have to close, and that's exactly what happened with Starspins Casino.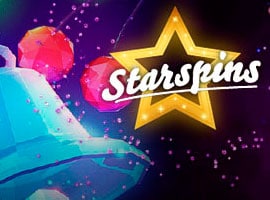 Can I still log in to Starspins casino?
Unfortunately, no. Players are no longer able to play at Starspins Casino as it has been closed down by the owners, Gamesy Operations Limited. This includes British players, with Starspins.com being listed as "inactive" on Gamesy's UK Gambling Commission licence. All those with an existing account have been directed to play at a new site instead.
It's impossible to say exactly why the decision was made to close this site as there could be a variety of reasons for it. But whatever happened, it's now not possible to log in to your old account if you had one. Of course, you can't sign up for a new one either.
Fortunately for players, this isn't really a big problem. With so many other online casinos still live, there are loads of alternatives available. If there's a specific feature of Starspins that you liked then you will almost certainly be able to find a different site with that exact feature or something very similar.
Starspins free spins no deposit
One feature that players loved was the free spins no deposit at Starspins Casino.
New players were able to sign up for a new account. They would then be given a batch of free spins without a deposit being needed. These free spins could be used to play a handful of the slot games without the player betting any of their own money. It was a great way for new players to try out a few games without committing any of their own money.
Of course, with Starspins now closed, those no deposit-free spins are no longer available. But this type of bonus is still incredibly popular elsewhere. So there are plenty of other casinos with no deposit free spins that you can play at. They work in pretty much exactly the same way, allowing you to try out a new site without using any of your own cash.
Can I play the same slots elsewhere?
Many of the slots and games that were available at Starspins will be available at other sites too. That's because most casinos don't create the slots and games themselves.
Dedicated casino game providers develop these titles independently instead. Casinos can then choose which providers they want to partner with to provide these games. So you will actually often find the same games at multiple different sites. To ensure fairness, all of these games are required to be checked first by an independent company. The UK Gambling Commission has a list of approved test houses to ensure that the games are properly and thoroughly tested.
Before Starspins Casino closed down, they had partnered with the likes of Microgaming, IGT, and other big game providers. These providers have partnered with many other casino sites too, where you'll be able to find a selection of the same slots and games.