Diablo 4: All information about release, prices and gameplay
Release, skills, endgame, multiplayer and more: Here you can find all the latest information about Diablo 4.
The release of Diablo 4 is imminent. We always summarize the latest information about the action role-playing game here and will revise the article. Regardless of whether you need information about the release, the classes, skills, the endgame or multiplayer, you will always be up to date here.
Everything we know about Diablo 4 so far
Release: When will Diablo 4 come out for PC, PS5 and Xbox?
Diablo 4 will be released on all platforms on June 6, 2023 at 1:00 a.m.
Early Access will be available from June 2, 2023 at 1:00 a.m. for those who pre-order the Digital Deluxe and Ultimate Editions.
Platforms: What will Diablo 4 appear on?
PC
PS5
PS4
Xbox One
Xbox Series X/S
There will be crossplay between the platforms . On the PC you have to use Battle.net, Diablo 4 does not appear on Steam. A version for the Switch is currently not planned.
Early Access: Can I play Diablo 4 beforehand?
If you want to play Diablo 4 before its release, you can only do so via Early Access. Those who pre-order the Digital Deluxe Edition ($89.99) or the Ultimate Edition ($99.99) of the action role-playing game receive early access
Early access for pre-orders will be available from June 2, 2023 at 1:00 a.m. according to German summer time.
We have put together all the information about the release time and the start of early access in a separate article.
Test: How good is Diablo 4?
In our first test, Diablo 4 performed hella well. Even if we don't give a final rating yet , we were able to get an impression of almost all of Diablo 4's content. So if you're still unsure whether Diablo 4 is for you, take a look at our extensive test.
In the video we also discuss our first impression of the Diablo 4 full version:
Price: How much does Diablo 4 cost and is there a shop?
Full price: Diablo 4 will be released for $69.99 on PC. There is also a Deluxe Edition for $89.99 and an Ultimate Edition for $99.99.
In-game shop: Diablo 4 offers an in-game shop. Here you can purchase new cosmetic items using in-game currency.
Season Pass: Diablo 4 is supported quarterly with seasons like Diablo 3. There is also a free season pass. However, you can unlock additional cosmetic rewards if you purchase the Premium Pass.
We have more information about the in-game shop and the costs of the Battle Pass in a separate article for you.
Battlepass and Seasons: What happens after release?
Diablo 4 will have four seasons annually. The first season will appear in July. From then on, a new season is planned every three months.
Each season includes a battle pass. This one offers free rewards. If you want even more rewards, you can also buy one of two premium versions of the Battlepass.
Regular balance updates are intended to ensure that none of the classes and builds are too strong or weak.
Leaderboards will come later . There will be no player rankings at the time of release. These should be submitted later, but probably not until after Season 2.
We have presented more about the developers' post-release plans and what the Battle Pass and Season Journey bring to you in a separate article.
---
System requirements: Your computer must be able to do this
In order to play Diablo 4 in a resolution of 1080p at medium graphics settings and at 60 FPS, you need the following hardware:
Recommended system requirements
Operating system: Windows 10 in 64-bit
Graphics card: NVIDIA GeForce GTX 970 or AMD Radeon RX 470
Processor: Intel Core i5-4670K or AMD R3-1300X
RAM: 16 GB RAM
DirectX: Version 12
Hard drive: SSD with 90 GB of free space
Internet: broadband connection
The minimum requirements for Diablo 4 in 1080p native resolution or 720p rendered resolution as well as minimum graphics settings and at 30 FPS are as follows:
Minimum requirements
Operating system: Windows 10 in 64-bit
Graphics card: NVIDIA GeForce GTX 660 or AMD Radeon R9 280
Processor: Intel Core i5-2500K or AMD FX-8350
RAM: 8 GB RAM
DirectX: Version 12
Hard drive: SSD with 90 GB of free space
Internet: broadband connection
All classes: What characters are there?
Diablo 4 will offer five classes when it is released. There will most likely not be any other classes like the Paladin when it is released. However, it may be that new classes will be integrated into the game after the release.
The Barbarian continues to be a brutal melee fighter, plowing through his enemies with a variety of weapons.
The sorceress is a ranged fighter who shoots with ice and fire or summons meteorites.
The Druid relies on a healthy mix. He casts his natural spells from a distance, but can also shine in close combat in bear or wolf form.
The huntress can use daggers and swords in close combat, uses bows and crossbows for long-range combat, has powerful shadow magic and can also lay traps.
The Necromancer can, as expected, summon the dead, or attack using blood magic and bone spells.
Can't decide on a class? Our guide will help you find the best class for you. In our overview article we also summarize what you need to know about the abilities of the five classes.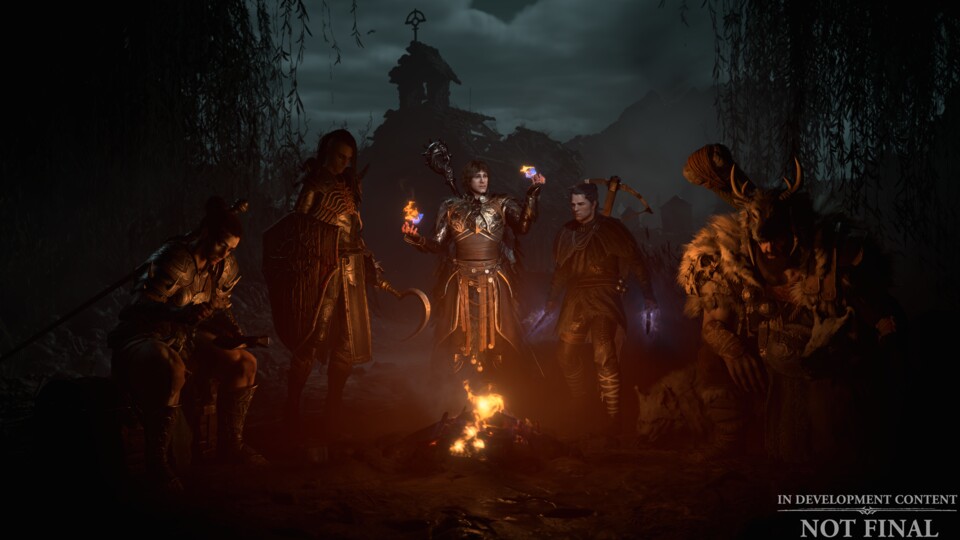 Skills: How do the talent tree and skills work?
Skill tree: In Diablo 4, the talent trees are more like synapses. They are therefore divided into several clusters, across which active and passive talents are distributed. The clusters will be unlocked gradually. Talents can be leveled up and receive additional properties. Active and passive talents use the same point pool.
Paragon board: From level 50 onwards, the Paragon board is available to you in Diablo 4, with which you can specialize your build even further. The boards are made of different tiles with different thicknesses. Between tiles there is sometimes space for glyphs that reinforce all the tiles around them. The Paragon board promises to be similar in size to the skill trees in Path of Exile: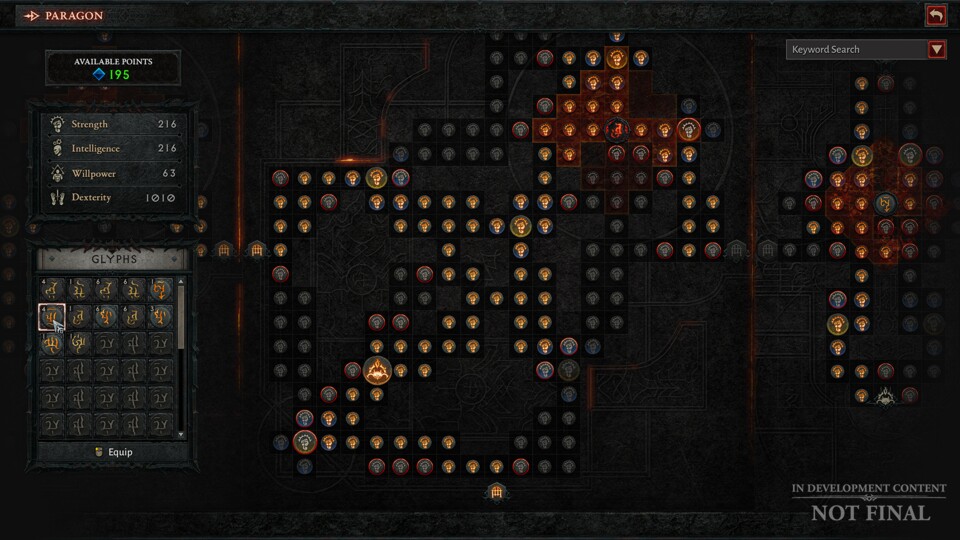 Decisions: In Diablo 4 you have to plan your route through the skill tree well. Over the course of the main game, you only get enough points to unlock around 30 to 40 percent of the skill tree. Although you can redistribute your skill points indefinitely, this costs something and becomes more expensive the more skills have already been unlocked.
So that you don't lose your skills, we have presented a practical tool for skill tree planning here.
Level-Up: Are there attributes again?
Nope. In Diablo 4, points are not distributed directly to the primary attributes. You can only specifically increase your strength, intelligence, dexterity and willpower with the help of the Paragon Board . Before that you have to hope for the right items. This is a shame precisely because every attribute still makes sense for every class.
---
Loot: How does the item system work?
Quality of the items: All items in Diablo 4 are divided into five quality levels. In addition to the usual white items, you will later receive magical items in blue or rare items in yellow. The orange-colored legendary items and unique items are even more powerful.
Legendary and Unique: Magical and rare items not only have better stats, but also additional affixes. Legendary weapons and armor have a legendary property instead of a fifth affix, i.e. particularly powerful bonuses. Unique items always have fixed properties and are not randomly generated.
Set items: There will be no sets in Diablo 4 at release. We have summarized more information about the set items in a separate article.
Editor: Can I customize my character?
For the first time in Diablo history, you have a lot of creative freedom to customize your hero's appearance. You can choose between different face and skin types, as well as determine the gender. In addition, you can add lots of tattoos to your character, change the color of his eyes or dye his hair. The armor can also be visually adjusted and recolored.
You can also customize your trusty steed. You decide the fur color, armor, saddle and even which horseshoes are attached.